Welcome to Leucadia Red, producers and purveyors of exclusive and exquisite wines from the highest acclaimed appellations to intriguing growing regions less traveled.  

Our gallery of wines promises a unique wine experience of artistic expression.
Leucadia Red was founded in 2007 with the goal of producing a gallery of exclusive and unique wines from the finest artisan winemakers showcased with an artistic expression. Our journey began in Sonoma County inspired by the artwork of Jami Goddess and a winemaking family's legacy.  Leucadia Red embraces the community for which we are named, celebrating the diversity and history of the regions namesake founded in Greek mythology.
Our latest release:  The Spy's Red Blend
California Red Wine
50% Cabernet Sauvignon
40% Zinfindel
10% Merlot
Our Spy's Red Blend exudes intrigue with flavors of dark rich fruit, ripe cherry, blackberry and plum. A classic but unique blend of artistry.  
( more… )
Leucadia Red is founded in the surreal artwork of Jami Goddess. We began our journey in Sonoma County in 2007 by producing a portfolio of wines with the goal of satisfying every pallet. We've been blessed to have worked with some of Sonoma County's most acclaimed winemakers in bringing you this collection.
Since 2007, we have also explored some of California's other most notable and interesting appellations and are pleased to bring some of these to you within our collection. 
Leucadia Red's Collection: $10 – $32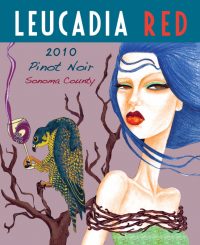 2010 Sonoma County Pinot Noir, $20
Complex and rich, fruit forward with fresh raspberry aromas, subtle oak and a flavor profile of lush cherry, black raspberry and warm toasted spice. This wine boasts a rich tannic structure with bright acidity leaving the palate yearning for another taste. 
( more… )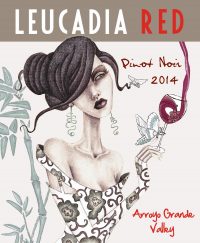 2014 Arroyo Grande Pinot Noir, $25
Aromas of dark cherry, raspberry and vanilla, concentrated lush flavors of subtle oak, rich dark fruit and minerality; possibly one of the finest Pinots we've had the pleasure of offering at this value. 
( more… )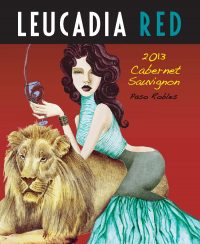 2013 Paso Robles Cabernet Sauvignon, $21
Plush, seductive aromas of dark berry, plum and spice, concentrated flavors, richly textured with a deep satisfying finish. 
( more… )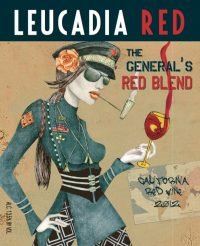 2012 "The General's Red Blend" California Syrah Blend, $14
A Rhone style fusion blend of Syrah, Carignane and Merlot with aromas of lush black cherry, dark raspberry, soft tannins with a richly balanced profile.

 

( more… )
2014 Chardonnay, $20
Tropical fruit aromas with essence of green apple, pear and vanilla. The unique use of new and neutral oak separate this offering from the status quo with an eye opening first impression. 
( more… )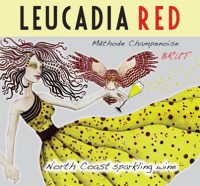 Brut North Coast Sparkling Wine, $32
Method Champenoise Brut Sparkling crafted from North Coast Sonoma county Chardonnay, Pinot Noir and Sauvignon Blanc fruit. This sparkling wine displays richness, depth and elegance with citrus, pear and floral aromas boasting vibrant flavor and structure.                   
( more… )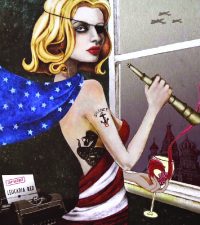 "The Spy's Red Blend" California, $10
50% Cabernet Sauvignon, 40% Zinfindel and 
10% Merlot.
( more… )
We're pleased to introduce our next series of exclusive wines inspired by the untamable spirit of the American wild horse. 
Badd Pony wines celebrate the craft and wine making artistry with time-honored practices and tradition. Our offerings exude the labor of love for the art of winemaking, spirited by vintner experience. 

Badd Pony Series: $32 – $35
Continuing to further our goal in producing and purveying intriguing wine artistry, it's our pleasure to introduce you to Badd Pony. Inspired by the wild horse spirit, we've created a series of wines dedicated to all that is exceptional.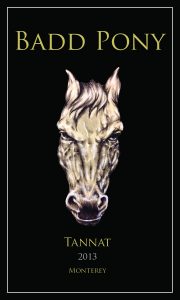 2013  Tannat | Monterey CA, $35
Beautiful deep color, this relatively rare varietal boasts raspberry and dark fruit aromas with notes of earth. This wine is bold, distinctive and instantly recognizable. 
( more… )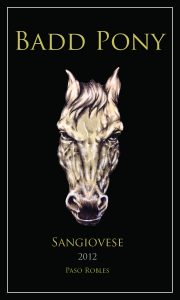 2012  Sangiovese | Paso Robles, CA, $32
Full bodied with notes of spice, blackberry, plum and vanilla. Flavors of strawberry, tart cherries and oak. Elegantly crafted with plentifully balanced tannins and acidity, deliciously strong in fruit. Truly a wine for the gods. 
( more… )
Love Wines Series:  $36 – $54
In fulfilling our commitment to purveying the most interesting and unique wines, we bring our enthusiasts Love.
Our Love series of wines from the Rouge River Valley, are produced by the Neil Katz family – crafted with the love for the artistry of winemaking and family.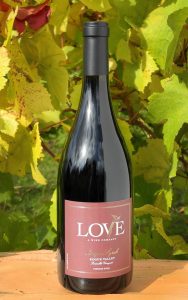 2009 Syrah Fortmiller Vineyard, $36 / 750ml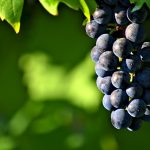 Aromas of vanilla and chocolate with flavors of coffee woven into ripe dark Marion berry.  Overtones of fig, dark cherry and cola. Elegant and perfectly balanced. 
( more… )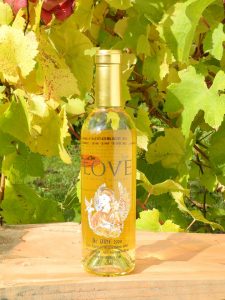 2009 Sauternes De Vine, $54 / 375 ml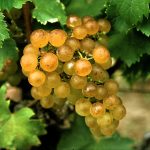 A rare botrytis style Sauternes of this stature can easily defend the title as "ambrosia of the gods." With aromas of pineapple, passion fruit, apricot and peach, this desert wine is a decadent fruit bouquet of floral, honeysuckle and orange marmalade. A very special offering for those most cherished moments and company. 
( more… )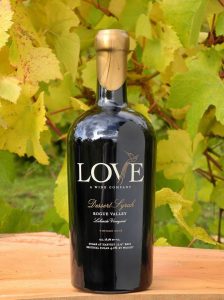 2009 Syrah Port, $36 / 500 ml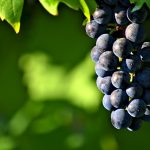 This uniquely crafted desert Syrah exudes opulence with aromas of dark chocolate, plum, Marion berry and carmel. With overtures of fig and brandy this port style wine is the epitome of winemaking mastery and sophistication. 
( more… )

Hieroglyph wines represents an exclusive barrel program of Napa Valley wines that explores a family legacy. Please contact us for details of releases and availability.