Welcome to Leucadia Red, producers and purveyors of exclusive and exquisite wines from the highest acclaimed appellations to intriguing growing regions less traveled.  

Our gallery of wines promises a unique wine experience of artistic expression.
~ Special Offer ~
Buy A Case or 12 Mixed Bottles, Get
10% Off
No Coupon Code Needed 
Leucadia Red Series: $10 – $32
The Leucadia Red series features the unique artwork of Jami Goddess, with the wines expertly crafted to satisfy and tantalize all palates.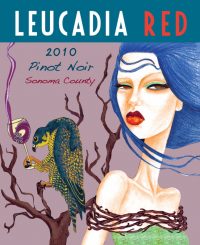 2010 Sonoma County Pinot Noir, $20
Complex and rich, fruit forward with fresh raspberry aromas, subtle oak and a flavor profile of lush cherry, black raspberry and warm toasted spice. This wine boasts a rich tannic structure with bright acidity leaving the palate yearning for another taste. 
( more… )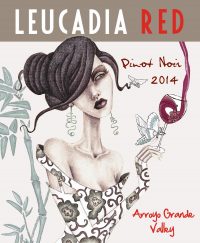 2014 Arroyo Grande Pinot Noir, $25
Aromas of dark cherry, raspberry and vanilla, concentrated lush flavors of subtle oak, rich dark fruit and minerality; possibly one of the finest Pinots we've had the pleasure of offering at this value. 
( more… )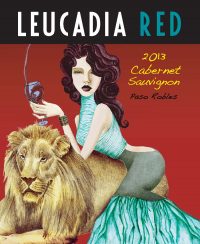 2013 Paso Robles Cabernet Sauvignon, $21
Plush, seductive aromas of dark berry, plum and spice, concentrated flavors, richly textured with a deep satisfying finish. 
( more… )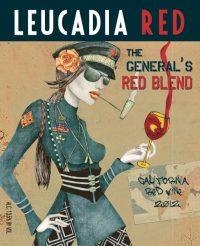 2012 "The General's Red Blend" California Syrah Blend, $14
A Rhone style fusion blend of Syrah, Carignan and Merlot with aromas of lush black cherry, dark raspberry, soft tannins with a richly balanced profile.

 

( more… )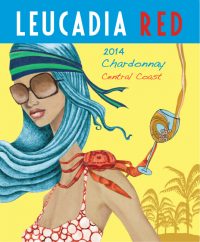 2014 Chardonnay, SOLD OUT
Tropical fruit aromas with essence of green apple, pear and vanilla. The unique use of new and neutral oak separate this offering from the status quo with an eye opening first impression. 
( more… )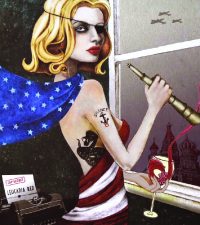 "The Spy's Red Blend" CA, $10
50% Cabernet Sauvignon, 40% Zinfindel and 
10% Merlot.
( more… )

Badd Pony Series: $32 – $35
Our Badd Pony wines are inspired by the sport of professional rodeo.  The term "bad pony" was coined by some cowboys to describe the "prized draw" or the exceptional horse in the herd: The Baddass…..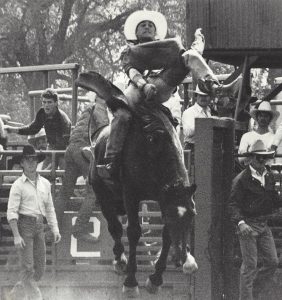 Our initial releases for the Badd Pony brand are 2 inherently difficult varietals to properly craft requiring a highly skilled winemaker to tame the grape and properly accomplish the task. We have no doubt you'll agree with your first taste.
Tannat, our highest prized varietal, exudes our brand's mantra, arguably being the healthiest varietal one can consume. Tannat has the highest tannin concentrations of all varietals, boasting enhancement of life's longevity through the chemistry of red wine. 
Our next Badd Pony varietal, Sangiovese, is is another example of exceptionalism and baddassery.  This grape was the first used by the Romans in the earliest recorded wine production. Sangiovese is a highly acidic varietal requiring expertly honed crafting skills to provide our prized single varietal offering. 
We ask you to join us now in celebrating everything in life that is baddass with Badd Pony wines.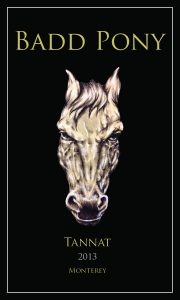 2013  Tannat | Monterey CA, SOLD OUT
Beautiful deep color, this relatively rare varietal boasts raspberry and dark fruit aromas with notes of earth. This wine is bold, distinctive and instantly recognizable. 
( more… )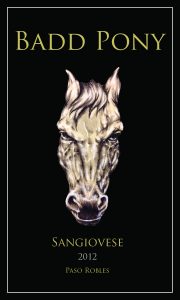 2012  Sangiovese | Paso Robles, CA, $32
Full bodied with notes of spice, blackberry, plum and vanilla. Flavors of strawberry, tart cherries and oak. Elegantly crafted with plentifully balanced tannins and acidity, deliciously strong in fruit.  ( more… )

Hieroglyph Wines Barrel Program
Hieroglyph wines represent our exclusive barrel program.  Barrels are spoken for by individuals or small groups of wine club members. Join our wine club for more information.